MACARONI & CHEESE
Ingredients needed:
– 8 tbsp. (1 stick) unsalted butter, plus more for dish
– 6 slices good white bread, crusts removed, torn into 0.5cm- 1cm pieces
– 5 1/2 cups milk
– 1/2 cup all-purpose flour
– 2 tsp. salt
– 1/4 tsp. freshly grated nutmeg
– 1/4 tsp. freshly ground black pepper
– 1/2 kg grated sharp white cheddar cheese
– 200 g grated Gruyure cheese
– 1/2 kg elbow macaroni
How to prepare:
1. Heat the oven to 200°C. Butter a 3L casserole dish; set aside. Place bread in a medium bowl. In a small saucepan over medium heat, melt 2 tablespoons butter. Pour butter into the bowl with bread, and toss. Set bread crumbs aside.
2. In a medium saucepan set over medium heat, heat milk. Melt remaining 6 tablespoons butter in a high-sided skillet over medium heat. When butter bubbles, add flour. Cook, whisking, 1 minute.
3. While whisking, slowly pour in hot milk. Continue cooking, whisking constantly, until the mixture bubbles and becomes thick.
4. Remove pan from heat. Stir in salt, nutmeg, black pepper, 3 cups cheddar cheese, and 1 1/2 cups Gruyure; set cheese sauce aside.
5. Fill a large saucepan with water; bring to a boil. Add macaroni; cook 2 to 3 minutes less than manufacturer's directions, until the outside of pasta is cooked and the inside is underdone. (Different brands of macaroni cook at different rates; be sure to read the instructions.) Transfer macaroni to a colander, rinse under cold running water, and drain well. Stir macaroni into the reserved cheese sauce
6. Pour mixture into prepared dish. Sprinkle remaining 1 1/2 cups cheddar cheese, 1/2 cup Gruyure, and bread crumbs over top. Bake until browned on top, about 30 minutes. Transfer dish to a wire rack to cool 5 minutes; serve hot.
---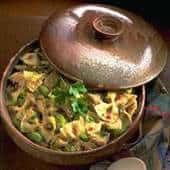 TUNA CASSEROLE
Ingredients needed:
– 1 1/3 cups bow tie pasta or 1 cup macaroni
– 1 cup chopped celery
– 1/3 cup chopped onions
– 300g condensed cream of mushroom soup can
– 3/4 cup milk
– 250g tuna can, drained
– 1/4 cup drained and chopped pimientos
– 2 tbsp. grated Parmesan cheese
– Snipped fresh parsley
How to prepare:
1. Cook the pasta according to the directions on the package. Drain and set aside. Meanwhile, preheat the oven to 375 degrees.
2. Lightly spray an unheated medium saucepan with no-stick spray. Add the celery and onions. Cook and stir over medium heat until tender. Stir in the condensed soup and milk. Then gently stir in the pasta, tuna and pimiento.
3. Transfer the mixture to a 1.5l casserole. Sprinkle with the Parmesan cheese.
4. Bake for 25 to 30 minutes or until heated through. Sprinkle with the parsley to garnish.
Makes 4 servings
---
CHICKEN STEW
Ingredients needed:
– 4 medium sized chicken breasts or thigh, skinned
– 3 medium parsnips, chopped small
– 3 medium carrots, chopped small
– 1 medium onion, diced
– 1 tbsp. olive oil (or other vegetable oil)
– 1 cup all-purpose flour
– 1 tbsp. Paprika
– 1 tbsp. all-purpose flour
– 1 cup of hot water
– Ѕ tsp. of your favorite dried herbs
(thyme, basil etc or a combination)
– Pepper and salt to taste
How to prepare:
1. Heat a large skillet over medium-high heat. Add oil. While the oil heats, combine flour, paprika and pepper (if desired) in a bowl. Dredge chicken until complete covered in flour. Add to hot oil.
2. Cook chicken until well browned. Add onion and cook until translucent. Add vegetables, cook until almost tender.
3. Remove chicken and place on plate. You will be adding it back to the mixture later.
4. Push vegetables to outer edge of pan. In center of pan add 1 tbsp. of flour to oil (add additional oil if there is not enough, you are making a roux). Cook flour and oil stirring constantly until it darkens somewhat (it will start to become a lot smoother). Add 1 cup of hot water, stirring constantly. Stir vegetables back into sauce. Add herbs and stir until well mixed. Season with salt and pepper to taste.
5. Add chicken to mixture. Simmer covered until vegetables are tender and stew has reached desired thickness (if stew is too thick, add a small amount of water and stir well)
6. When chicken is completely cooked serve immediately, the stew will thicken substantially as it cools.
7. Serve with mashed potatoes, rice or by itself with a nice slice of fresh bread.
Discover Skopje's vibrant nightlife and nightclubs
---
SPAGHETTI WITH TUNA
Ingredients needed:
– 600g tomatoes (about 3), cut into approximately 2cm dice
– 6 tbsp. olive oil
– 2 cloves garlic, minced
– 3/4 cup chopped fresh basil
– 2 tsp. red wine vinegar
– 1 tsp. salt
– 1/2 tsp. fresh-ground black pepper
– 400g spaghetti
– 2 x 200g cans tuna packed in oil, drained
How to prepare:
1. In a large bowl, combine the tomatoes, oil, garlic, basil, vinegar, salt, and pepper.
2. In a large pot of boiling, salted water, cook the spaghetti until just done, about 12 minutes.
3. Drain and toss the pasta with the tuna and the tomato mixture.
---
FOIL GRILLED HERB FISH
Ingredients needed:
– 1/2 cup olive oil
– 1 small white onion, chopped
– Fresh or dried Mediterranean herbs, such as a combination of tarragon, thyme, parsley, and dill weed, to taste
– about 1kg fish
How to prepare:
1. Preheat grill according to manufacturer's instructions. In a small bowl, combine olive oil, onion, and herbs.
2. Spread out a piece of heavy-duty aluminum foil large enough to form an envelope around the fish. Pour half of the oil and herb marinade on the foil then lay the fish on top. Pour the remaining marinade on top of the fish. Fold sides and ends of the foil into a secure envelope.
---
VEAL WITH BACON
Ingredients needed:
– 500 g veal sirloin (fillet) or veal rump, cut in a 3 cm thick slice
– 2 tbsp. extra virgin olive oil
– salt
– 1/2 tsp. ground pepper
– 2 slices smoked bacon,
cut 1 cm thick
– 12 garlic cloves, peeled
– 1 tsp. rosemary leaves
– 6 sage leaves
– 3 bay leaves
– 2 tbsp. dry white vermouth
– 12 black olives
How to prepare:
1. Brush the veal on both sides with 1 tablespoon oil. Season with salt and the pepper on both sides. Let stand for 30 minutes. Cut the bacon into 5 mm julienne.
2. Pour the remaining oil into a 23 cm cast-iron pot or pan. Add the bacon, garlic, rosemary, sage and bay leaves and mix well. Place the meat in the pot and cook over gentle heat for 8 minutes on each side. Stir the garlic and bacon regularly.
3. Remove the meat and keep it warm between 2 dishes. Cook the garlic and bacon for another 5 minutes, stirring, over gentle heat. Spoon off the rendered fat. Add the vermouth and cook until evaporated. Add the olives. Add 2 tablespoons water and the juices from the meat and mix well. Return the meat to the pot and warm over gentle heat for 3 minutes, stirring it in the sauce.
4. Arrange the meat on a platter. Garnish with the garlic and bacon and blanket with the sauce.
---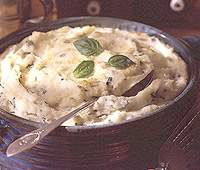 GARLIC AND BASIL MASHED POTATOES
Ingredients needed:
– 10 cloves garlic, unpeeled
– 3 tbsp. olive oil
– 9 medium potatoes (1,5 kg.)
– 200 g. dairy sour cream
– 1/4 cup grated Parmesan cheese
– 1/4 tsp. salt
– 1/4 cup milk
– 1/4 cup packed fresh basil leaves, snipped
– 3 tbsp. grated Parmesan cheese
– Fresh basil leaves
How to prepare:
1. Place garlic in an individual souffle dish or ramekin. Drizzle oil over garlic. Bake in a 180°C. oven about 20 minutes or until garlic is very soft; cool. Peel the garlic, discarding skins and reserving oil.
2. Meanwhile, peel and cut up the potatoes. Cook, covered, in boiling salted water for 20 to 25 minutes or until tender; drain. Transfer potatoes to a large mixing bowl. Beat potatoes with an electric mixer on low speed. Add sour cream, the 1/4 cup Parmesan cheese, baked garlic, reserved oil, and salt. Gradually beat in enough milk to make fluffy. Fold in snipped basil. Spoon the potato mixture into a greased 2-quart casserole.
3. Cover and bake in a 160°C. oven for 40 minutes. Stir; sprinkle with the 3 tablespoons Parmesan cheese. Bake, uncovered, for 10 to 15 minuts more or until heated through. If desired, garnish with additional basil leaves. Makes 10 to 12 servings.